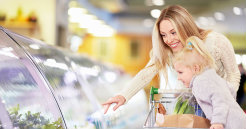 Credit Cards
Make purchases in Nebraska, New Hampshire, or New Zealand just as easily. Meet financial needs as they arise with the universal purchasing power our MasterCard® and Visa® credit cards provide.
Enjoy competitive rates, plus cash back rewards for every purchase made using your card! Though we offer different options to suit different needs, one thing's universal: the monetary flexibility you'll receive across the board.
Summary

Low introductory rate on new accounts and balance transfers*
Cash back with every purchase
Benefits package included on all Visa® and MasterCard® accounts
Payments and services provided locally
Worldwide purchasing power
Online card management available 24/7
Easily replaced if lost or stolen

*Rates may change after the account is opened.