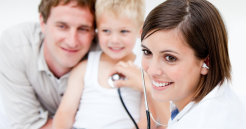 Health Savings Account (HSA)
Unfortunately, you can't always control your physical health; however, you can control your financial health. An HSA account helps you stay prepared for medical-related expenses. If spending the money is inevitable anyway, the multiple tax advantages makes spending that much more strategic.
And if other things come up that require some extra cash, that's a possibility, too.**** Set up your HSA right away and rest assured that the account and any rollover funds will always remain in your name, regardless of job or life changes.
Summary

Transfer Fee $25.00. TCB will assess a $25.00 fee if you request your HSA at TCB be transferred to another institution.