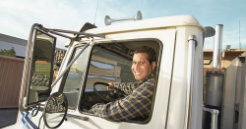 Equipment & Machinery Loans
When it comes to productivity, there are a lot of working pieces. Make sure you're firing on all cylinders with the help of an Equipment & Machinery Loan from The Tri-County Bank. We offer accommodating repayment terms to cover your equipment and machinery needs.
Make sure you're one step ahead of the competition and obsolete supplies. Our accommodating financing helps keep lapsed or slow periods in production far away from your operation.
Summary

Competitively low rates for new or used equipment and machinery
Accommodating repayment terms that work uniquely for your business or operation
Meet needs without cutting into working capital or savings
Stay ahead of the competition and equipment irrelevance
Avoid lapsed or slow periods in production due to equipment/machinery resources
Willingness to work with operations of all shapes and sizes
Set up automatic payments to be deducted from your account monthly
Local decision-making and processing
Helpful, customized service throughout the entire process