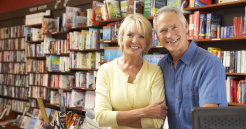 Government-Backed Loan Programs
We want to see all of our local farms and businesses succeed, regardless of size or output. That's why we work closely with the state and national government to help secure financing that might otherwise be difficult for smaller operations to procure. Speak to a helpful business banker about our different government-backed lending options today.
Nebraska Energy Loans
Statewide initiative, available to businesses that meet certain energy regulations
Available for qualified improvements, equipment, or technical advances
Competitively low interest financing available up to 15 years, 5 years for appliances
Specific lending options available:
3.50% and 5.00% APR* loans (for amounts up to $250,000)
2.50%APR* loans (for amounts up to $750,000)
2.50% APR* loans for NPPD customers (for heat pumps)
2.50% APR* loans for wind, solar, and fuel cell projects
To learn more about options and qualifications, visit the Nebraska Energy Office website.
FSA Guaranteed Loans
Designed to help both new and established family-sized farms receive financing
Competitively low rates to meet a wide range of agricultural needs:
Land
Livestock
Equipment
Feed
Seed
Supplies
Building construction
Farm improvements
Two types of farm operating loans available
Maximum loan amounts up to $1,302,000
Local decision-making and processing
Helpful, customized service throughout the entire process
To learn more about financing options and qualifications, review the USDA FSA Fact Sheet.
Farmer Mac II Loans
Competitively low financing for the following loans:
Farm Service Agency (Farm Ownership and Term Operating)
Rural Development Community Facilities
Rural Development Business and Industry
Government backing produces long-term fixed rate options
Availability of funds in good times and in bad
To learn more about Farmer Mac II loans, visit the Farmer Mac website.
SBA Loans
Available to start-up businesses, as well as purchasing and refinancing existing businesses
Government-assisted help for businesses that might otherwise have difficulty getting approved
Special financing for qualifying businesses
Competitive rates for a wide range of business needs:
Real estate
Equipment
Inventory
Working capital
And more
Generally lower down payments and extended terms
Additional considerations taken when deciding maturity*
Local decision-making and processing
Helpful, customized service throughout the entire process
*Loan maturities are based on the ability to repay, the purpose of the loan proceeds, and the useful life of the assets financed.