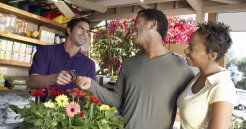 Merchant Card Processing
A basic rule of thumb in business is the easier you make it for others to pay you, the more likely you are to get paid. Merchant card processing operates on that very principle, offering businesses the capability to process additional forms of payment.
Boost your bottom line with the ability to accept major credit and debit cards. Not only that, merchant card processing increases efficiency, reduces processing time and errors, while also providing an easy-to-manage record of transactions.
Summary

Make it easier to get paid by accepting more forms of payment
All major credit and debit cards accepted
Boost your bottom line
Increase efficiency at the point of sale
Reduce processing time and errors
Easy-to-manage record-keeping capabilities
Equipment is easy to use and set up
Reduce billing expenses and paper waste