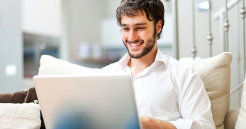 eStatements
Have account information at your fingertips right when you're ready for it. Free, online eStatements are just like paper statements, except more convenient, environmentally-friendly, and secure.
Account information is easier to retrieve when needed. More importantly, your info is more secure. The less paper trail you leave for identity thieves, the better you can avoid being a victim of fraud.
Summary

Free, anytime access to account statements
Available via your online banking portal
An email reminder is sent every time a new eStatement is available for view
Avoid long waits on the mail
Prevent paper storage hassles and paper waste
Avoid the hassle of searching for past statements
Environmentally friendly alternative
Securely encrypted service
Easily view, print, save, and archive for future use

Getting started

In order to utilize eStatements, you must first be enrolled in online banking. From there, you will click on the "options" tab and select which accounts you'd like to receive eStatements for.