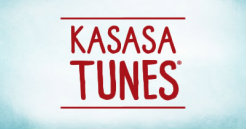 Kasasa Tunes
Turn up the volume on your account with Free Kasasa Tunes® checking. This innovative account rewards you in ways that really speak to you for things you're already doing. You like movies? How about music? Kasasa Tunes provides you with monthly digital download reimbursements to fulfill your entertainment needs.
Even benefit from ATM fee refunds not just around Nebraska, but nationwide!* Traditional, run-of-the-mill checking is a thing of the past — and not in a retro-relevant kind of way. Kasasify your checking, diversify your playlist today.
Summary

Earn up to $7.50 every month in iTunes® or Amazon.com® downloads*
Earn $10 in iTunes or Amazon.com downloads at sign up*
Unlimited ATM fee refunds nationwide (up to $4.99 per transaction)*
No monthly service fee
No minimum balance to earn rewards
Unlimited check writing
Free online banking
Bill pay available
Free eStatements
Free Visa® debit card
$25 minimum deposit to open

How Does Kasasa® Work?

Simple things like using your debit card and receiving eStatements save you time and make life easier. Those small changes also help save us some money. We can then pump that money back into the community — and to pay you rewards!

Qualifications

Qualifying for rewards is easy — so easy, in fact, you're probably already doing it! To earn your rewards, simply do the following activities and transactions in your Kasasa Tunes account each monthly qualification cycle:

Have at least 12 debit card purchases post and settle
Be enrolled and receive eStatement notice
Be enrolled and log into online banking

That's it. If you don't meet the qualifications one month, don't worry. There is no penalty, and you still have a free checking account. Plus, you can get back to earning rewards the very next month.




*The minimum to open account is $25. You will be refunded up to $10 for iTunes® and/or Amazon. com® purchases that post to and settle account during the first 45 days after you open account. Refunds will be credited to account on the last day of statement cycle in which refundable purchases were made. In addition, each qualification cycle, earn up to $7.50 in refunds of iTunes and/or Amazon.com purchases if qualifications are met during previous monthly qualification cycle. Purchases must be made with debit card associated with your Kasasa Tunes account. Qualifying transactions must post to and settle the account during monthly qualification cycle. Transactions may take one or more banking days from date transaction was made to post to and settle account. ATM-processed transactions do not count towards qualifying debit card transactions. "Monthly Qualification Cycle" means a period beginning one business day prior to the first day of the current statement cycle through one business day prior to the close of the current statement cycle. Domestic ATM fees incurred using your Kasasa Tunes debit card during qualification cycle will be reimbursed up to $4.99 per single transaction if qualifications are met within monthly qualification cycle. iTunes is a registered trademark of Apple, Inc. and Amazon.com is a registered trademark of Amazon Inc. Apple Inc. and Amazon Inc. are not participants in or sponsors of this program. Limit one account per SSN. ATM receipt must be presented for reimbursement of an individual ATM fee of $10.00 or higher.