What We've Been Up To
TCB to Build New Facility in Bassett, NE
Bassett, NE (December 28, 2021) – The Tri-County Bank (TCB) is pleased to announce the construction of a new replacement facility in Bassett, Nebraska. The new building will be located at 606 South Clark Street, at the intersection of Highways 20 and 183 and provide banking, insurance and financial services with a drive-thru window and Interactive Teller Machine (ITM). The ITM service is an innovative banking technology that will allow customers to interact with TCB staff via video while conducting standard financial transactions at the drive-thru window.
Nancy Steinhauser, Chief Risk Officer and Bassett Branch Manager noted, "Our existing facility provides excellent office space, but not great 'bank' space. We felt strongly a new facility was the best way for our team to continue to deliver important financial services to our existing and future customers. We continue to work with community members to determine the best use of our existing facility."
The new building will be approximately 3,500 square feet and includes modern conveniences in a comfortable and professional environment. In addition, parking space will be sufficient to accommodate a variety of vehicles.
The Kirk Gross Company, based out of Cedar Rapids, Iowa is the General Contractor working with a number of local sub-contractors to complete the project. Construction is scheduled to conclude and TCB is to be fully operational in its new facility by September 1, 2022.
Jon Schmaderer, President and CEO of TCB Board of Directors stated, "This is an opportunity for us to enhance the level of financial services we offer to our KBR area, while making a positive impact on our community."
About The Tri-County Bank
Founded in 1945, The Tri-County Bank (TCB) is an independent community bank with locations in Stuart, Atkinson, Bassett and O'Neill, Nebraska. TCB provides traditional banking services in addition to mortgage, insurance, and non-insured investment products that support individuals, home owners, businesses, and the agricultural community. Member FDIC, Equal Housing Lender.
About The Kirk Gross Company
Kirk Gross Company is a multi-disciplined organization with professionals providing planning, designing, building, and furnishing solutions for office environments in a One Source process. The Kirk Gross Company has been specializing in commercial construction projects since 1937.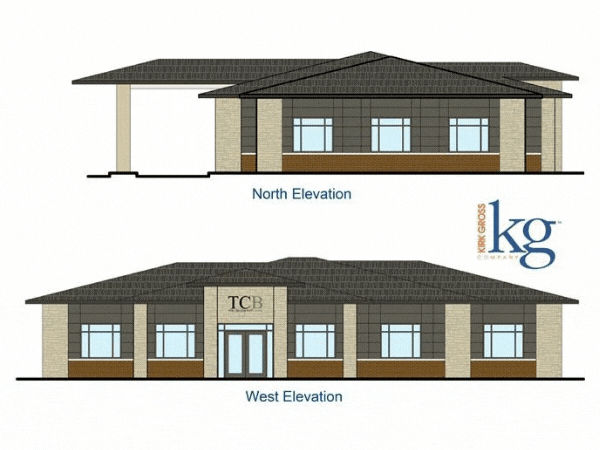 FHLBank Topeka Community Leader Award
75th Anniversary Give Back
In 2020, TCB celebrated 75 years of community banking. TCB recognized its customers through a special gift presentation.