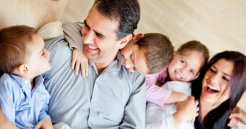 Certificates of Deposit (CDs)
Reaching your goals is important; treat them that way with the guarantee a fixed-rate CD can provide. Unlike other risky investments, you'll always know exactly what you're saving with a CD — the rate you start with is the same one you'll finish with.
Benefit from higher rates than regular savings that increase by selecting a longer term. And with our wide selection of terms — ranging from 14 days to 60 months — it's easy to select the one that works best for you.
Summary

Fixed rates, higher than regular savings; provide added guarantee
Receive higher rates by selecting a longer term
Set aside for long-term savings goals
A wide range of terms available (from 14 days to 60 months)
No setup or maintenance fees
Early withdrawal subject to penalty*
FDIC insured
$500 minimum deposit to open

*The penalty for early withdrawals, differs based on your CD:

14-31 Days = 7 Days Interest
3 Months-11 Months = 3 Months Interest
12 Months-35 Months = 6 Months Interest
36 Months + = 12 Months Interest