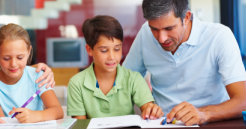 Higher Learning Fund
It's no secret that the price of an education is on the rise. Set your child and yourself up for success by setting aside funds ahead of time. Benefit from higher interest than regular savings, plus associated tax advantages.
Although the account is set up in your child's name, you act as custodian, controlling what goes in and comes out until your child reaches the age of 21. Make the transition to college a smooth one for your family. Start setting aside money in your long-term Higher Learning Fund — a $25 minimum opening deposit is all it takes.