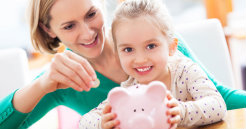 Financial Literacy
Let's be real – learning how to manage money can be complicated. Whether you've handled your finances for decades or are opening your first savings account with grandma's birthday check, there's plenty of financial knowledge out there still to grasp.
If we want to succeed at something, we need to learn about it first. Don't believe us? Well, imagine you're setting out on a journey... but with no map. Where are you at? Where are you going? When will you be there? Having the knowledge to successfully navigate life's financial choices can make all the difference. That's why we're bringing new quality educational resources to you – because when our customers succeed, our community succeeds, making life a bit sweeter for everyone.
Helping us provide these resources is Banzai™. Banzai is a top-notch financial literacy program for all ages that over 20,000 schools nationwide are using to teach real-world finance in the classroom. Now we at Tri-County Bank have brought Banzai's three most popular courses to your home at no cost to you. These courses are available online anytime and are for kids ("Banzai Junior", 8-12), adolescents ("Banzai Teen", 13-18), and adults ("Banzai Plus"). Go to our TCB Banzai page now to get started!