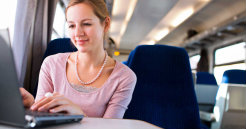 Additional Services
At The Tri-County Bank, banking doesn't just stop at accounts and loans. We offer our hard-working customers a wide variety of supplemental services to add ease to their banking lives — online, by phone, in-branch, and beyond.
If you're looking for something specific and it isn't found here or elsewhere on the site, please be sure to let us know! We're always here to make sure banking is convenient for our customers.
Teller Services
Cashiers checks
Coin counting
Fax service
Money Orders
Routing Number
The Tri-County Bank's routing number is: 104113660.
Online Check Reordering
Reorder Harland Checks online. It's secure and fast! Ordering checks online from Harland Clarke is as safe and secure as ordering them in person or over the phone. The site is secure, so your transactions and account information are safe and completely confidential. Reorder checks online now.
Safe Deposit Box Rental
Protect important documents and valuables that would be difficult or impossible to replace with the help of TCB. Our safe deposit boxes come in a variety of sizes and are designed to give you the peace of mind that comes from knowing your valuables are safe and secure. Boxes are available at our Stuart, Bassett and Atkinson locations only. Please check for size availability. The annual fee can be deducted automatically from your checking account or savings account.
3" x 4½"
5" x 5"
3" x 10"
5" x 10"
9½" x 10"
15" x 10" (Bassett only)
*Note: Contents are not FDIC insured.
Direct Deposit
Enjoy the convenience of having your payroll or social security benefits deposited electronically into your account. It's safe, fast, and reliable. Contact us for more information.
Night Depository
Night deposits are for businesses and individuals who would like to make secure deposits after business hours. Businesses are given deposit bags and keys and can drop the bags into the night deposit slot at their local branch. We will make your deposit for you the following business day. Please note the Payment Crediting notices at each of these locations.
Atkinson
Bassett
O'Neill
Stuart
Wire Transfer Services
Move money across county, state, country, or even world with ease. We offer our members incoming and outgoing wire transfer capabilities. Contact us for more details.